There are many benefits for kids to learn coding. But how early should parents start introducing coding to kids? I decided to find out.
Kids can start learning to code as young as 7 years old. This is also the age that their thinking and problem-solving skills develop rapidly. Kids at this age display readiness and positive attitudes to new experiences, it makes learning faster and easier.
In this blog post, I want to discuss why age 7 is the best time to teach kids to code, what does it involve in teaching kids to code, and can we teach younger kids to code.
Why is 7 years old the best age to start learning to code?
At ages 7 and 8, kids' cognitive skills are developing rapidly. They are showing a thirst for new things and challenges.
There are a few development milestones at this age that make it the right time to start introducing coding to kids.
Kids start to understand the cause and effect at 7 years old
Kids can understand the connections of events such as "if…then…else". This is one of the important coding concepts they need to grasp.
Kids can do simple planning to solve problems at 7 years old
At the age of 7, kids start to be able to do simple planning. For example, kids at this age can plan what to build with Lego or Minecraft. Planning is another essential skill for a programmer.
Kids' math skills are developing at 7 years old
Most of the 7-year-olds start to learn more complex arithmetic calculations. At this age, kids can do more than just addition and subtraction. They can start doing more complex math operations like multiplication and division.
7-year-olds are curious and adventurous about the reasons behind things.
At this age, You will probably hear lots of "Why" from them. Kids start to question frequently for more information. They love to listen or read about topics that interest them.
Kids start to have better focus and longer attention span at the age of 7
Parents and teachers know it is always a challenge to get young kids to sit down and pay attention. Learning to code requires patience and focus.
This becomes easier when they are 7 years old. As kids get matured, they can sit down for a longer period and focus on a task better. In general, 7-year-old kids can sit and pay attention for at least 30 to 45 minutes.
7-year-olds can type better and able to read simple commands
7-year-olds are ready to read simple coding commands and they can type better. For kids who show more readiness, you can choose to introduce text-based programming like Python. Otherwise, block-based programming language like Scratch is a good choice for first-time coders.
Each kid is different. Some develop cognitive skills earlier than others.
Kids at 7 or 8 years old demonstrate the readiness to start picking up coding skills. It is the best time for parents or teachers to start introducing different coding lessons to them.
How do I teach my 7-year-old to code?
We have discussed the reason why I think 7 years old is an ideal time to learn to code. Now, as parents or teachers, how do we teach them to code?
Parents could enroll kids into coding classes or code camps during school holidays.
Alternatively, we could start teaching kids to code at home. Fortunately, there are many online resources available to help us.
I started introducing coding to my son when he was 7 years old. I could share some experience here.
To teach 7-year-olds to code, one of the best ways is using computer games. Computer games are engaging and fun, it almost always catches their attention.
I introduced Minecraft to my son when he was 7 (To be honest, I thought it was a better choice than letting him play Angry Birds the whole day!).
After a few weeks of exploration, he started building his Minecraft city with giant buildings (which he called the Bird City). He was hooked.
I observed he could plan what he wanted to build and started searching for solutions like how to create fireworks and electricity in Minecraft.
Not too long later, I introduced Scratch and Tynker to him. With Tynker's Minecraft integration, he went on to create more add-ons and mini-games.
The idea of learning to code through computer games sits very well with me according to my experience. Minecraft and Scratch are two resources I am happy to recommend to parents who are looking to introduce coding to kids.
Minecraft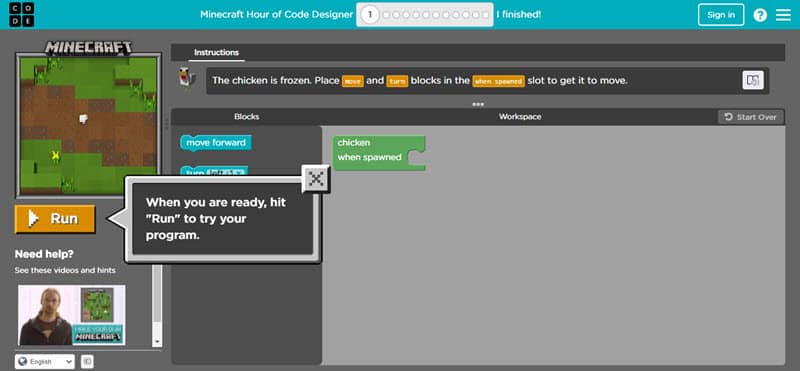 Minecraft is one of the most popular games among kids (and adults too!). It allows players to create Mod (the characters of the game), add-ons, mini-games, buildings, and landscape, etc.
For more advanced players, they can create private Minecraft servers with their creations on it, and invite friends to play together.
The game is not only fun to play, it sparks the creativity of kids.
Here are 2 resources for learning to code with Minecraft that I used:
Code.org offers free Hour of Code lessons in Minecraft Education Edition or on the code.org website.
Tynker offers coding lessons with Minecraft integrations. Kids can create Minecraft resources like skins, Mobs, Blocks, Mods, and Items, etc. The platform also provides a free private Minecraft server for students to experience.
Scratch
Scratch is a coding platform created by M.I.T. It is one of the best platforms for kids to start learning to code.
Scratch offers a unique block-based programming language where students drag and drop coding blocks to create programs. It is FREE to join and learn on the platform.
To find out more about Scratch and how you can use it, make sure to check out my blog post on Why Scratch programming is good for kids.
How early can kids learn to code and what does it involve?
We have discussed the reasons why 7 years old is a great age to start learning to code. What about younger kids?
At the age of 5 or 6, kids develop the ability to solve problems by applying what they observe in their environment. At this age, kids start to learn basic math, reading, and even riding a bike, etc.
This is also an excellent time to introduce simple coding games to them. Bear in mind that, 5 or 6-year-olds are probably not able to type well enough to learn computer programming. They are still developing cognitive skills.
The focus is to spark their interest in learning and creativity. Coding games for younger kids feature drag-and-drop blocks with interesting icons, interactive stories, etc.
Recommended coding games for kids age 5 to 7
There are many awesome coding games for kids available online. And most of them offer free access or low prices.
I have done some digging, and here are 3 recommended coding games for kids age 5 to 7 years old. All these games feature drag-and-drop coding blocks, easy challenges, and engaging graphics.
If you are looking for more recommendations, make sure to check out my blog post on Best Apps for Kids to learn to code.
ScratchJr
ScratchJr is the simplified version of Scratch. Scratch programming best suits kids ages 7 to 13. Kids learn to use Scratch coding blocks to create stories, games, or animations.
ScratchJr is designed for kids ages 5 to 7. The features of the app match young children's cognitive development. It supports early-childhood numeracy and literacy developments.
It is a mobile app and it is available for download from Apple and Android stores.
LightBot Junior
LightBot Junior is an easier version of the popular LightBot coding game. It is specifically designed for kids ages 4 to 8 where it features drag-and-drop blocks and less complex puzzles.
With the app, kids use simple coding blocks to solve puzzles. By solving the puzzles, kids learn basic programming concepts.
Hopster Coding Safari
Platform: iOS
Price: FREE, with 1 in-app purchase of $1.99
Hopster Coding Safari is an animal-themed pre-coding game that helps kids to learn the fundamentals of coding. It presents a series of logical challenges that require kids to guide the animals to where they need to be.
The app best suits toddlers and preschoolers.