With the rapid development of mobile platforms, mobile apps have become one of the great teaching and learning tools.
There are many benefits of kids learning to code early. And learning is no longer limited to textbooks and classrooms. Kids can start learning about everything with a tablet or a smartphone.
Did you know there are a growing number of programming apps specifically designed to help kids to learn to code, even before they learn to read?
In this blog post, I want to present you a list of the best coding apps for kids to learn to code.
I have divided the list into two main categories :
Coding Apps For Kids Aged 3 to 8
Coding Apps for Kids aged 8 to 16.
These categories are general guidelines. Each kid is different. Some kids enjoy the beginners' block-based coding longer than others.
Do not pressure them to move on to text-based coding too early. Keep them interested.
Learning to code for kids is a progressive learning.
Observing your kid or student if he/she has a good grasp of the basic coding concepts. Once they are ready, start introducing text-based programming.
Good news for the parents and teachers. There is a great range of coding apps for kids that teaches both block-based and text-based coding.
Without further delay, here is the list of 19 Best Coding Apps For Kids.
Coding Apps For Kids Aged 3 to 8
LightBot Junior
LightBot Junior is specifically designed for kids aged 4 to 8 years old. It is an easier version of LightBot with less complex puzzles.
LightBot Junior introduces computer programming to kids by using blocks of commands. Children learn about the concepts of computer science by dragging and dropping blocks to solve puzzles.
Children are tasked to guide the Boybot or Girlbot to light up tiles and solve levels. By solving the puzzles, children learn programming concepts like writing instructions, debugging problems, building simple procedures, and loops.
ScratchJr
ScratchJr is the mobile version of the popular Scratch platform. It is created by MIT.
ScratchJr is redesigned to be developmentally appropriate for younger children. The features of the app match young children's cognitive, personal, social, and emotional development.
Young children learn problem-solving, develop sequencing skills, and design projects through coding with Scratch. Besides, the app also helps children to develop their math and language abilities.
ScratchJr teaches kids more than just coding skills, it supports early-childhood numeracy and literacy development.
The app is free to use. You can also choose to donate to the Scratch Foundation.
Kodable
Age: 4-10
Platform: iOS
Price: Subscription required $6.99 per month or $59.99 per year
Kodable is a popular coding curriculum trusted by over 50% of US Elementary Schools.
Kodable allows kids to play and create games. It features content and activities suitable for all age levels.
Kids will enjoy exploring the technomazes of Smeeborg, the asteroid fields of Asteriodia, and the slime-infested plains of Bug World.
Through games and lessons, kids learn about programming concepts like sequential operation, syntax, object-oriented programming, and methods, etc.
The app takes kids from learning to think like a programmer to writing Real JavaScript code.
Box Island
Age: 4-10
Platform: iOS
Price: First 10 levels FREE, followed by $2.99, $5.99, and $7.99 for the full game
Box Island is a game that takes kids on an exciting adventure while teaching them the fundamentals of coding. By playing the game, kids learn the concepts of programming like loops, conditionals, pattern recognition, and algorithmic thinking.
The game is beautifully designed with 3D graphics. It features 100 levels in which the first 10 levels are FREE.
Coding Games for Kids to Play – Kidlo Coding
Kidlo Coding features over 200 coding games. It is most suitable for kids aged 5 to 9 years old.
The app divides the games according to the different coding concepts. It covers:
Basic Coding
Sequences
Loops
Debugging
Functions
Co-ordinates
Advanced coding topics
It offers complete fundamental coding education to kids.
Hopster Coding Safari
Age: Toddlers and Preschoolers
Platform: iOS
Price: FREE, with 1 in-app purchase $1.99
Hopster Coding Safari is designed to give kids as young as toddlers a good head start in learning how to code.
The animal-themed pre-coding game helps kids to learn the fundamentals of coding. Children are presented with a series of logical challenges, they will try to get animals to where they need to be.
The tasks in the app start simple and become increasingly complex. The app will guide children through the fundamental techniques of computational thinking.
Hopster Coding Safari does not teach any specific programming language. It gives children the foundation they need to learn how to code.
Algorithm City: Coding Game
Age: 5 – 8
Platform: Android
Price: FREE
Algorithm City is a fun way to learn the basics of programming and algorithms. The game has a minimalist design.
Children have choices of characters like penguin, fox, cow. Angry bird, and ladybug, etc. They are tasked to guide the character to the place they need to be by selecting the correct coding blocks.
The game teaches children the basic programming concept, problem-solving skills, and creative thinking.
Tynker Junior
Age: 5 – 7
Platform: iOS
Price: FREE for limited games
Tynker is one of my favorite coding apps. It offers a great range of games and lessons for self-paced learning for all ages and experience levels.
Tynker Junior is designed for children aged 5 to 7 years old. It offers fun activities and interactive ways to spark kids' interest in coding.
Young kids learn the basics of coding by connecting picture blocks to guide their characters.
Daisy The Dinosaur
Daisy The Dinosaur is a simple and free coding app. It was built by the same creators of Hopscotch, another excellent coding app for kids which I will discuss more later.
The app offers an easy drag-and-drop interface for kids. Kids learn about coding concepts like objects, sequencing, loops, and events by guiding Daisy the dinosaur to complete challenges.
It is a great introduction to programming for kids.
SpriteBox: Code Hour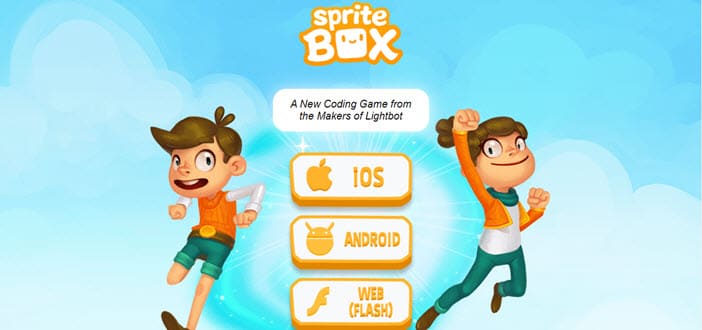 SpriteBox: Code Hour is a gamified coding app for kids. It is also the demo version of SpriteBox.
Kids are tasked to give SpriteBox program instructions and advance through unique worlds to help free Sprite's bottled-up friends.
Through the challenges, kids learn to sequence commands, change parameters, debug faulty logic, and use simple and complex loops to solve problems.
Once the kids are comfortable with icon-based coding, they can choose to play SpriteBox using real programming code. The android app offers real Java code, while the iOS app offers the Swift code.
codeSpark Academy
Specifically designed for kids aged 5-9, codeSpark Academy offers word-free lessons for young coders.
Children learn the basics of coding by instructing Woz, the character of the game. They start coding by moving commands blocks.
Once kids have mastered the concepts, they are allowed to create their games.
codeSpark Academy charges subscription fees for home use. However, it offers FREE access for teachers, librarians, and verified non-profit educational institutions.
Code Adventures: Coding Puzzles For Kids
Age: 6+
Platform: Android
Price: $3.99
Code Adventures is an educational app that aims to inspire kids and spark their interest in coding and science.
The app features 32 well-crafted levels and fascinating visuals. Children solve challenging puzzles while learning how to code. It is a non-violent educational game without ads or in-app purchases. It is safe for kids, parents, and teachers.
Coding Apps For Kids Aged 8 to 15
LightBot: Programming Puzzles
LightBot is the advanced version of LightBot Junior. It is a programming puzzle game. It requires kids to solve levels by applying the logic of coding.
LightBot features 50 levels and 20 challenge stars to collect.
Children are tasked to guide the robot to light up tiles and solve levels using programming commands. The game cultivates a real understanding of procedures, loops, and conditionals.
LightBot: Code Hour
LightBot: Code Hour is a short teaser meant to introduce players to programming who have little to no experience.
The app features 20 levels. Users are tasked to guide the robot to light up tiles and solve levels using programming logic and commands.
Once ready, you can choose the follow-on Lightbot: Programming Puzzles which features more games and challenges.
Scratch
Age: 8-13
Platform: Android
Price: Free
Scratch is one of the most popular free kids coding apps. It was created by M.I.T. This version is the advanced level of the Scratch Junior.
Scratch allows kids aged from 8 to 13 to create stories, games, animations, and connect to physical devices like the micro: bit and Lego, etc.
It is a block-based programming language. Kids learn to code by dragging and moving coding blocks.
I recommend Scratch for any young coders that are not ready to learn text-based coding yet.
Hopscotch – Programming For Kids
Age: 8 – 16
Platform: iOS
Price: 7-day Free trial, $7.99/month or $79.99/year
Hopscotch- Programming for kids app focuses on introducing computer programming to kids via Create, Play, and Learn philosophy.
The app allows children to play the games on the Hopscotch platform. They explore projects made by other kids and get inspired.
Kids are allowed to create their own games or stories and share them with others. There are already 33 million games made on the Hopscotch platform.
The platform uses block-based coding. Kids do not need to have any coding experience to benefit from Hopscotch.
Swift PlayGrounds
Age: 12+
Platform: iOS
Price: Free
Swift PlayGrounds is created by Apple Inc. It best suits students aged 12+ with no coding experience required.
The app is designed to make learning to code a fun experience. Students master the basics of coding while solving interactive puzzles.
As the name suggests, Swift PlayGrounds uses Swift programming language to conduct lessons. Swift is created by Apple, and it is the language used by professionals to build iOS apps.
If your kids or students are ready for text-based coding, and interested in learning more about iOS apps, Swift Playgrounds is a great starting point for them.
Grasshopper
Grasshopper is a coding app for beginners created by Google. It is part of the Code with Google program.
The app helps young and new coders to learn to code in a fun and easy way. Grasshopper teaches JavaScript programming. In addition to the fundamentals of coding, students learn to create animations with code, problem-solving skills, creating websites with HTML and CSS.
Grasshopper best suits kids over 12 years old and adults who want to learn to code.
Programming Hero
Programming Hero offers fun and interactive ways for teens and adults to learn to code.
The app features video courses, game building, quizzes, and badges to make the coding lessons engaging. Programming Hero uses Python 3 to explain programming concepts.
Best Apps For Kids To Learn Coding – Closing Words
There are many benefits of kids learning to code.
Mobile apps are great tools for both learners and teachers. With coding apps, parents and teachers have better control of kids' screen time and online activities.
The interactive designs make coding lessons more engaging. Unlike the traditional textbook and computer lab lessons, coding apps offer fun and effective ways of learning.
Learning to code is fun. Teaching kids to code does not need to be dull or stressful. If you are looking for ways to teach your kids or students to code, make sure to check out my blog post on Tips for teaching kids to code.