Mobile Apps building is one of the effective methods for kids to learn to code. There are many app builders available online, but which are the best app builders for kids? I want to find out.
The best app builders for kids should offer both a building and learning experience. Fancy and complex designs are not the focus. We focus on the app builders that offer learning materials, step-by-step guides, and support communities.
Mobile apps were first introduced by IBM in 1993. It only became popular when Apple's App Store made its debut with 500 apps in 2008.
Mobile Apps are in every walk of life. It changes our lives. From gaming to shopping, from restaurant booking to online learning, almost everything can be done with an app.
Building mobile apps used to be a highly technical task and only available to professional developers. It is no longer the case.
There are hundreds of app builders in the market. An app builder is software that allows you to create apps with minimal programming skills required.
Why Learn To Create Mobile Apps?
Learning to create mobile apps does not mean we want to prepare kids to be a programmer or developer in the future. It offers more than that.
Just like coding, app development is a skill that offers benefits in many aspects of our life.
Here are a few benefits of learning to create apps:
With mobile app development, kids learn the practical side of coding. App building encourages kids to learn more about coding and computer science by showing them what they can achieve with coding.
Having the skills to create apps will help to stimulate creativity and provide an effective way for entrepreneurs to formulate ideas.
For young coders, learning to develop mobile Apps improves their problem-solving skills. Besides, app-building also enforces practical technical skills like web development, maths, and media creation.
In this article, I want to focus on the app builders that are kid-friendly and offer educational value.
Best App Builders for Kids
App Lab by Code.org
Key features of App Lab:
Create a mobile web app with either block-based or text-based JavaScript
Free to use
App Lab is a coding environment created by code.org. It allows kids to learn and create simple apps. With the App Lab, you can design and code your apps with either block-based or text-based JavaScript.
In addition to learning to build an app, App Lab is also a perfect venue for new coders to transition from block-based to text-based programming.
In the App Lab development environment, you can switch between block-mode and text-mode easily by clicking on the toggle button.
How does App Lab work?
There are 3 modes in the App Lab coding environment:
Design Mode:
In Design Mode, you can design the layout of your app. You can preview your design in the emulator on the left-hand side of the coding environment.
App Lab offers a built-in Design Toolbox where you can find widgets like buttons, Text Input, and Label, etc for your design. All you need to do is to drag the desired components into the design screen.
Code Mode:
Code Mode is the next step once your layout is ready. This is where you can write code to define the trigger actions of your design elements. In other words, you define what will happen after a button is clicked.
With Code Mode, you can import custom sound, music, and image to use in your app.
Data Mode:
Data Mode of App Lab allows you to import real data sets into your apps.
App Lab preloaded several data sources like data about major US airlines, etc. You can also submit a request to code.org for a dataset that is not listed.
The apps created with App Lab are mobile web apps. They can be accessed via browsers.
MIT App Inventor
Key features of MIT APP Inventor:
Free to use
Block-based coding
Real-time synchronization to devices
Big collection of online tutorials
Free teaching resources
MIT App Inventor is an App building platform that allows you to learn and create Android Apps. It is cloud-based, which means you can run the app builder on a browser.
One of the most essential features of the MIT App Inventor is block-based coding. Instead of writing code, you can create an app by using Scratch blocks. It is perfect for new coders to learn programming and mobile app development.
The App Inventor provides real-time synchronization between the programming environment and your device. In other words, you can see the result of your design and code instantly on your phone.
This feature is extremely helpful for both development and learning. It encourages kids to explore possibilities and stimulate creativity inside them.
How does MIT App Inventor work?
There are three main components in the App Inventor development environment:
Designer: It allows you to create components and layouts of your app.
Blocks Editor: This is where you can code your app to provide it with functionalities.
Android Emulator: This is a graphic preview of your app. It also provides the functionality to connect to your Android phone.
Thunkable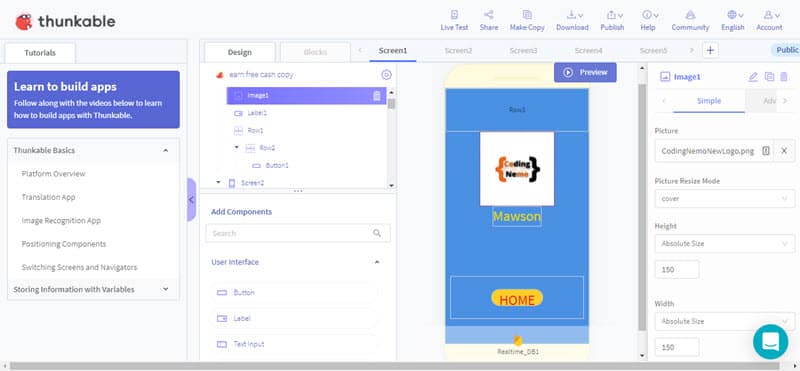 Key Features of Thunkable:
Limited Free account access
Ability to create native Android and iOS Apps
Block-based coding
Thunkable is a paid app builder that offers both educational and app development features.
Here are a few features of Thunkable:
Thunkable creates native Android and iOS apps
While most app builder platforms only offer hybrid or web apps, Thunkable offers users to create native Android and iOS apps in addition to web apps.
All app projects can be exported to Apple AppStore and Google Play.
Thunkable offers Scratch-style block-based programming
Thunkable is a platform that enables you to create apps without coding skills. What makes Thunkable special is the Scratch-style app builder. You can build an app by dragging and dropping coding blocks.
Scratch coding blocks are interlocking. In other words, only the matching blocks can fit each other. This feature removes the complex syntax of text-based programming languages.
You can learn to create an app by modifying an existing project
Thunkable offers a community where users can share their app projects. You can learn to create an app by studying and modifying community projects.
Best App Builders For Kids- A Wrap-Up
There are many app builders available on the web. However, most of them are focusing on app building and less on the educational side.
At CodingNemo.com, I focus on products and services that offer educational value. So far, I have found Thunkable, MIT App Inventor, and AppLab offer the best values for parents, teachers, and young coders.
So which platform should you or your kids get started with?
In my opinion, App Lab by Code.org is the best place for new coders to get started with it. The platform is free to use. It also offers step-by-step guides for students to pick up the basics of programming and app development.
MIT App Inventor is the next step for coders with some coding experience. It is a free service and allows students to create native Android Apps.
Thunkable is a paid platform, it allows students to publish their apps into Google Playstore and Apple AppStore. It is a good choice when you are ready to introduce your apps to broader users and even charge a fee for them.
Do you have experience with platforms that are not mentioned in this blog post? Please feel free to leave a comment, I am happy to review and add to the list.